Domestic :
The principal advantages of brick paving in architecture lie in the wide variety of colours, textures, forms and patterns that are inherent in this form of construction. Architectural applications include:
The interior and exteriors of buildings;

Landscaping;

Footpaths, malls and pedestrian plazas.

Such applications pose few problems in the area of structural design. Rather, emphasis is placed on the aesthetics and functionality of this form of paving.
Because of its aesthetic qualities and versatility, brick paving has enjoyed widespread usage both in domestic landscaping and in civic applications. The wide range of colours and textures available in concrete pavers facilitates integration both with the pavement surroundings as well as with other paving materials such as stone and wood.
Brick paving can both be laid in intimate, confined spaces which would otherwise be difficult to pave, as well as in large undulating and profiled areas. In open spaces, a human scale can be established by suitable use of colour and pattern.
Virtually all types of concrete paver have been used successfully in landscaping. Experience shows, however, that in this type of application the use of rectangular, ie. Non-dentated, blocks is often an advantage. Not only can smooth-sided blocks be cut to enable the pavers to be laid to curved alignments, but they may be swept up vertically to provide a means for linking and harmonizing different architectural features.
Many types of concrete pavers have been developed specifically for hard landscaping. These use either specially chosen shapes or else utilize special treatments of standard block types.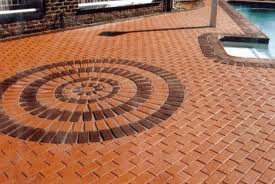 Industrial :
In many countries the most cost-effective use of brick paving is to be found in the industrial or heavy-duty sphere. The ability of brick pavements to withstand concentrated heavy loads and to resist the wheel loads of heavy off-road vehicles such as cranes, transtainers, forklifts and straddle carriers, has made interlocking bricks the first choice for many industrial pavements. Heavy-duty applications of brick paving include:

Factory Floors and Pavements

Factory Loading Areas

Parking Areas

Bulk-Cargo Areas

Ports and Container-Handling Areas

Petrol Filling Stations